How to face paint a monster? Face Painting Sheffield, brings fun, creativity and the wow factor to your event. Most importantly, we do face painting for parties, both children and adult's, face painting for events, weddings, hen nights, community events and charity events. Most noteworthy, all our face painters have art qualifications and are very experienced. We want to share our knowledge with you so that you can recreate these fun designs at home. 
How to face paint a monster
Beginners can do this super easy face painting design. The design can be used for Halloween or even just as a scary party face paint. 
The skills needed for this design are low and can be easily corrected by using a baby wipe. For accurate wiping wrap the index finger in the baby wipe and sort out those messy edges! Face Painting Sheffield love this design as it can be recreated with lots of colours and every look turns out looking slightly different. 
You will need:
Firstly, a sponge 

Yellow face paint and White face paint from (diamond FX)
Green face paint and Black face paint from (snazaroo) 

Lastly, a thin brush 
Alternatively, If you are face painting for some fun you could buy the Snazaroo palette – which includes all the colours you need in on easily accessible palette. 
Step 1: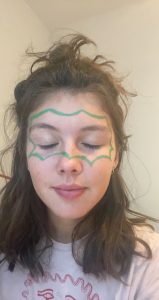 Start by drawing a mask shape around the eyes using green paint. This will simply create a border for when you fill in with colour. However, if your paint is bit messy and goes over the border you have drawn you can clean it up using a wet wipe. 
Step 2 
Sponge the green around the outside of the mask outline and yellow on the outside. Using a clean, slightly damp sponge lightly dab at the yellow and green to merge the two colours together.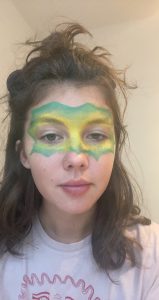 Step 3
Take a green brush and draw on spikes around the edge of the mask, then been the line into the rest of the face paint. 
Step 4 
Take the thin brush and draw on horns (see reference to the photo). Fill in the horns with white.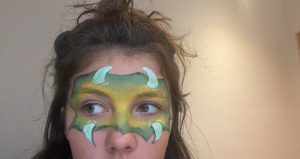 TIP: you need to make sure the paint underneath the horns is completely dry; otherwise, you will have light greenhorns.
Step 5
Retaking the thin brush outline the horns in black and patch up any areas which may have become messy.