The halloween party is to look forward too, now that summer is over. Halloween is a lot like marmite – you either love it or hate it. With some neighbours putting up signs for 'No trickle treaters' and others turning their house into a vampire's castle, there's really no inbetween. But one thing we know for sure, is how to throw the perfect Halloween party. We've let you know about the best entertainers and how to become your own DIY entertainer.
Decorationing your halloween party
DIY spider web, you will need lots of glue (and I mean lots), balloons and white string.
Start by blowing up a balloon. After filling a bowl full of glue add in the string and cover. When you get the string out it should be all gloopy then start to cover the balloon. You can overlap the string creating a spider's web effect.
Leave the glue and string to set dry. Once dry pop the balloon to reveal a spider's web ball.
Another fast and easy DIY decoration is bleeding candles. Giving your home the haunted feel as well as that cosy feel can be easily done! Buy basic white candles found at any big supermarket. With the use of some trusty red paint you can achieve a blood like dripping down your white candles.
Games
The 'Eyeball Dig' – boil some pasta and let it cool off (the best way to do this is by putting the pasta in to the fridge) In a big bowl put the pasta with some mixed chocolate eyeballs mixed in. The children must rummage through the slimy pasta to find the chocolate treats.
Another great game is knocking down the cans, Halloween style. You will need six cans and acrylic paint. Cans can be painted in the style of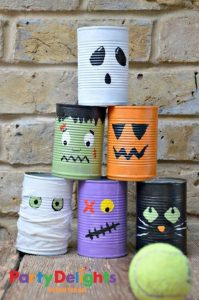 Frankenstein, pumpkin, black cat, zombie, mummy and ghost. After painting the cans stack them on top of each other. With three cans on the bottom, then two cans and one can on top. Children can throw balls at the stack at win sweet prices for knocking all the cans down first time.
Food
A really simple but effective food presentation is taking the classic humous and dip. However, first you need to start by buying a miniature pumpkin and carving at a small mouth making an 'o' shape. After you have carved it out draw on a cross for the pumpkin's eyes (as if they have been sick). On a plate place the pumpkin with the humous coming out of their mouth. Then around scatter all the vegetable dips, such as carrots, cucumber and tomatoes
Costume
Face Painting Sheffield can provide fantastic face paint for your halloween party. From pumpkins, skeletons to cob webs. However, if you're thinking of a more DIY costume follow our steps for the perfect spooky web face.
Start by adding in a black eyeshadow, add more shadow or less depending on how intense you would like it. Then with either black face paint or black pencil eyeliner draw out a basic cob web from the corner of your hairline to the tops of your eyebrow. Then, draw a long spider web line down to your cheeky and to finish off on the end of that line draw a spider.
This look can be glamourized by adding on some rhinestone gems (https://www.ebay.co.uk/itm/DMC-GLASS-HOT-FIX-RHINESTONE-IRON-ON-DIAMANTE-CRYSTAL-GEM-Trainers-Shoes-Bling/300830128221?hash=item460adf785d:m:mnOonvpWArspfWzqP2fqOhg)