When our face painters are not working hard, they like to get busy and creative. Take a look at the different crafts you can do:
Egg carton flowers
These are a great thing to do with any age children (a lot like our face painting designs), as the children can be pushed to get creative. It can also be done in order to re-cycle old egg cartons. All you need to do (for the basics) is egg carton cut into a square of 4 and stick using hot glue. Now for the creative bit, there are lots of options: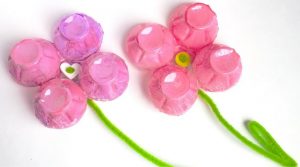 Marble – Firstly, you'll need to pick 2 colours. Add glue into the colour so they become a bit more watered down in order to form the marble effect.
Pattern – This one is more for older children. After getting them to paint on a solid background, on each petal they can paint small patterns on. Such as; dots, stripes, small landscapes or even bumblebees.
Glitter – Any child loves glitter (however messy it can get). Doing ombre glitter is a great way to take something as simple as sticking glitter to pushing the limits of their creativity.
Felt tips – For the younger children, the paint might be a bit too messy for your likings. Therefore, standard felt tips are perfect. However, if you want the felt tips to be more-clear you may want to paint on a thin base layer of white paint.
Peg Monsters
You will need peg, paint, googly eyes and wool.
Start by painting the peg one block colour. On one side hot glue on colourful wool, tis will be the peg monster's hair. Once the peg has dried, add on a googly eye and using pens or a thin brush and acrylic to paint on the mouth. The best colours to use are complementary from the body to hair
Red – Green
Yellow – Purple
Blue – Orange
Recycled bird feeder
You will need: An old washed out metal can (with all the labels removed), bird food, paint and wool.
Start by cutting a half a moon on either side of the cans. If you feel as though the side, you cut is too sharp you can sand it down in order to be safe.
Once that has been completed, you can paint a pattern on the can. Ideas of what to paint it is: a house, landscape, rainbow stripes or even just one plain colour.
Lastly, do a double strand of wool and thread it through the can, this will make the hanger for the branch.
Disclaimer: any children under the age of 12 may need adult supervision and help.
Pet Rocks
A classic one from everyone's childhood. Make a walk into a craft, making the children find interesting shape rocks to turn in to different animals such as ladybug, monsters, hedgehogs. We found woodland-themed animals looked best of all! After painting using acrylic paint, to make it waterproof glaze over with clear PVA glue.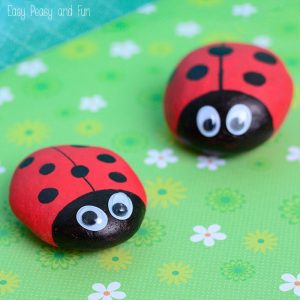 Spoon People
Wooden spoons are easily accessible, and everyone has them lying around. To make your wooden spoon person more advanced and more creative, you can make it clothes using hot glue and felt. Add on photos of our children to the 'face' of the spoon – this makes the spoons personal and then allows the children to make up their own small spoon productions to get their creative juices flowing.
If you don't want to do anything Chicken Wired Sculpture Workshops provide the perfect ready made workshop for you or check out a face painter to ake your event the most arty it can be.