An outdoor party is perefct as the weather is getting warmer as we creep into July, all the summer babies are having their birthdays. Whether 1st  birthday to the 40thwe have you covered and are going to share our expertise on how to throw the perfect, sophisticated summer party.
There are only a few main things you need to run the perfect summer party:
Good Music
Good Food
Good Entertainment
Music
At the majority of parties, you will find a large age range, from babies to grandparents. Having a good set of speakers sets the mood and creates an atmosphere or the party.
Spotify host a great playlist – Summer Party, this album is full of great throw-back hits as well as new and uprising songs. They have singers such as Beyoncé, Post Malone and Ed Sheeran creating a playlist that suits everyone.
If you're not a Spotify person, Apple music also hosts a great album called Summer BBQ. Full of famous artists like Michael Jackson, The Killers and ABBA you will be jiving all day and night long.
If your speakers don't create a sufficient amount of sound, do not fret. You can always rent out from places such as:
–  https://bluehire.co.uk/audio/?gclid=CjwKCAjwuqfoBRAEEiwAZErCssEOWJ-lo52CWkrpvEBRJiLRESWHBMjBJEHoNcUC4pTYS3Q4NRdvUBoC1UsQAvD_BwE
http://www.sheffieldpahire.co.uk
Food
We've talked about food a lot in our blogs, in a way it is one of the main parts of an outdoor party (or any party). Personally, I always remember whether the food was good there or not. With adult parties, you can go a bit more creative on the flavours. With children, you can get creative with the designs. Moreover, if you're having a mix of adults and children you are the lucky one and can try out both
Adult:
https://www.bbcgoodfood.com/recipes/baked-cheese-bread-flower– a fabulous cheesy pull-apart sharing bread is perfect for the party season. No one can resist melty camembert and golden dough balls
https://www.bbcgoodfood.com/recipes/super-sausage-rolls– Eat these family-friendly sausage rolls with a chutney or pickle. They make a great snack for a party buffet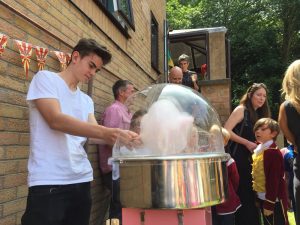 Children:
Making food into shapes is always a win. Use different shaped cookie cutters, such as dinosaurs, stars and hearts to cut out different shape sandwiches and pizzas. We found the shape cutters worked best with sandwiches made from flatbread.
For dessert, fruit can be arranged to look like different characters and animals, also fruits can be easily kept at an outdoors party. Such as:
Place on a skewer a marshmallow, on to the end place a strawberry. Lastly, pipe on small white dots onto the strawberry to create edible mushrooms!
Chocolate dipped strawberries are a childhood favourite, why not try adding two flavours of chocolate. In addition, add food colouring to the chocolate or cover the strawberry in sprinkles.
Lastly, is rainbow popcorn. Another classic is popcorn, why not fit in with the latest trend and add some colour to your party. It's effective and easy to do, all you need to do is make a caramelized sugar (boil together sugar and water, after adding some water-based food colouring)
Entertainment
DO NOT fret about the entertain, here at Face Painting Sheffield we have you sorted!  Having a magician or DJ is good all in all but can sometimes absorb everyone's attention away from socialising. We offer 3 perfect filler-gap entertainment: face painting, candy floss and slime workshops.
Face Painting is a mobile entertainment perfect for an outdoor party. Also obviously a speciality of ours, therefore, we definitely recommend it. We do face paints for any age. If face paint is too "childish" we also do festival glitter, which is a mega trend on Instagram and looks great for the feed.
In addition, we also do a candy floss package from small events to large corporate events. Our candy floss varies in flavour, including strawberry, bubble gum and more. Not only is our candy floss delicious, but we also share our knowledge of how candy floss is made.
To get more information contact us on – facepaintingsheffield@gmail.com