Once a year you need to give your child the perfect, rememberable party we've created the Unicorn party to show you how.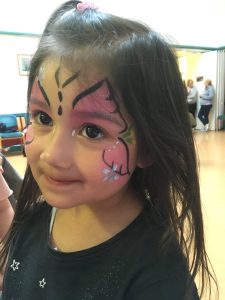 Is booking a lot of work?
We try and make the booking process as simple as possible. As we all know booking can be the most time consuming and boring thing! When you send an email to either – facepaintingsheffield@gmail.com or enquiries@wonderdome.co.uk, you will get a reply asking a few questions such as:
Where is the address of the party?
How many children will be attending (approximately)?
How old are the children?
Are there any other details we should know (will it be a themed party?)
Space ship craft at a recent birthday party
After we have finalised the date and made sure you know what's happening a small deposit will need to be made.
How the day planned out:
We started by making customised jewel t-shirts. Using the hole punch to make patterns such as love hearts, animals and stars the girls then put the small jewels in themselves. We left it to the parents to ion it onto the top.
Because this party only had 8 girls it was held at the house the traditional games were sped up. Firstly, we played 2 rounds of pass the parcel we tried to get the girls to do as much dancing as possible. The next game we played was musical chairs… bumps addition. We placed pillows in the shape the chairs would have been and danced around when the music stopped the children would have to sit on the pillow. This carried on while each pillow was taken away. Not only is this game a fun twist but also takes up little space.
We then went on to glitter tattoos. Normally I would do the glitter tattoos at the parties but here I showed them how to do them themselves. We got out all the glitter and I got them into pairs to help apply the glue and glitter. These girls were super careful and very patient.
The dad had timed the food wrong and we weren't due for another 15 minutes luckily that was just enough time for candy floss and a quick dance. The birthday girl's older brother was slightly too old to join in with the 8 years olds so together we did candy floss with gold shimmer on top for all children. Together we made pink and blue candy floss for everyone.
For food we kept it to a basic:
Mini margarita pizza
Mini sandwiches: cheese, cheese and ham, tuna and jam
Chips
Vegetables
Pink sparkly cupcakes
Eat n mess
And of course, a homemade cake. I personally feel the cake is the make or break to a party. We took the basic Victoria sponge cake recipe but added in
some colourful sprinkles. After stacking on 3 bases it was piped white. For the hair, a miss of frosting with rainbow belts and strawberry laces were added. Lastly, an upside-down ice cream cone was placed on top of the cake after being covered in pink frosting and black eyes were also piled on.
To finish off this super girly birthday party, we did a unicorn piñata. My main goals at parties are to make sure every child feels included (and has a good time). I did this by spinning the girls depending on how old they were i.e. if they were 7 I would spin them seven years old.
Decoration
The decoration at this party was kept minimalistic and pink. I brought my colourful polka dot plastic table sheet (to catch any mess and clean it up) on top we sprinkled happy birthday confetti. While, around the room confetti.