At parties little things make a big difference, it leaves the guests saying WOW and the little ones having a fantastic day.
Balloons
Balloons are definitely on the top of the party essentials list. But to stand out from the crowd plain balloons are a no go! A fun and easy way to brighten up balloons are by making them into animals. For this you will need:
– balloons (that one is a no brainer)
-Black marker pen
-Pink marker pen (paint)
-Strips of shredded paper (the one you may find in a party popper)
– Paper (cut into animal ear shapes)
Adding all of the listed above items together and you get your self, a rather cute looking, pony. Or any other creative animal that may come to your mind.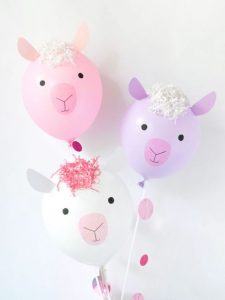 A simpler way is to get translucent balloons. Add in confetti this creates a shimmery balloon and just puts you a step ahead of the other balloons. A fun thing you may wish to do is add sweets – this then can be popped by the guests and they get the sweet treat inside.
Food
We found with children there are 2 main rules to making them eat food they claim not to like: make it small and make it look good.
A perfect way is using cookie cutters (or if you. have a steady hand a sharp knife)
Take everyday fruit and veg and cute stars or flowers out of them and layer them on top of each other, using a small tooth-pick to hold them in place.
I took inspiration from a space party I face pained at. The lady had cut the sandwiches into stars (to follow the galaxy theme) and they went down a treat.
Another way to kill two birds with one stone is when waiting for all the guests to arrive have children decoration cupcakes. This can be treated as a dessert or an extra for the party bag
Party Bags
Party bags are another essential which have been given out after parties for generations. However, adding on extra decorations to the standard party bag can make it 10x better.
Lately, we have been face-painting at endless unicorn themed parties. For party bags, many have taken a standard white paper party bag and added on a colourful horn (made of paper) as well as colour full strips of paper to be used as uni-hair. Lastly, draw big cartoon eyes and a nose using a felt tip or sharpie.
Another, fun but more summery idea is pineapple party bags. Using the same idea as the unicorn horn cut out 2 shades of green for the leaves on top of the pineapple. Then after stapling that onto the yellow party bags draw on a small cross with dots in the gaps (like the photo below)
Crafts
Doing crafts midway, start, end (any time really) is a really nice way to get the creative side out of children and have a bit of calm. When organising parties myself I often get children to decorate the parties bags – I buy cheap stickers and lots of colourful pens (I also tend not to do glitter as it goes absolutely everywhere and the results aren't even worth it)
A bit fiddly but definitely worth it
Selfies and photos are constantly being taken at parties. Why not try to spice it up by making a DIY photo booth or DIY cardboard cut out. Depending on the theme of the party depends on the type you may want to do. Personally, I feel the necessities are: moustache, hat and speech bubble.
To book a party visit our Contact Face Painting Sheffield