Face Painting At Events
Face Painting Sheffield at the  Russian School Face Event
On the 5th January, at Beaucheif Methodist Church 11-1 was a Russian Christmas/New years celebration took place. The event was run by the local Russian community group ClubOK  (http://www.childrensuniversity.co.uk/home/learning-destinations/russian-clubok/). Face painting Sheffield offer face painting for events and helps to enhance the children's experience.

Russian New Year Children Party – a Fairytale in Sheffield
The children had all come together to perform to Father Christmas (Ded Moroz) and his beautiful Snow Maden (Snegurochka). Those who learn to read a poem or sing a song will receive presents. The youngest group sang a song with some help from parents, age 5-9 recited some small poems they had learnt off by heart. While the children aged 9-16 performed a small play while including the audience in some guessing games. After the show to the parents, everyone devoured in a buffet of Russian delicacies from everybody in the Russian community.

Using a Face Painter For the Stage Make-Up
Before the big show, I helped backstage where the pirates in the performance needed eye patches doing. There were a lot of pirates and other magical characters.  Amongst all the bustle we got everyone's face paints in time! After everyone had performed and eaten me and a balloon modeller got to work. Placed in the centre we were the main attraction for many little and not so little kids. We worked our long queue face painting for events. For non-profitable companies and charities, we give a discount – please get in touch for more info. The winter flower was by far the most popular face paint (as can be seen in the photos). However, I think this may have been because of the large majority of girls were dressed as princesses. The boys want for the usual pirates and the superheroes.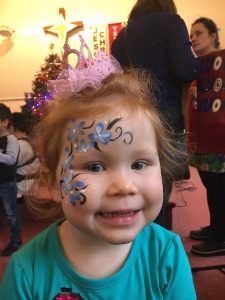 Feedback from Parents
One mum later tagged us on facebook and posted about our face painting for events "Big plus my daughter is completely happy and she's getting lost of compliments on her face paint. Downfall – she doesn't want to wash it off".
Useful Info About the Russian School in Sheffield
ClubOK (Клубок) the Russian Complementary School sessions take place every Saturday from 11.00 am to 1.30 pm at the King Edwards VII Upper School.
Most children attending the group have at least one Russian speaking parent, but the School is open to anyone with children interested in the Russian language and culture. They focus on learning Russian through singing, rhymes, games, crafts and storytelling. The older group also learn to read and write in Russian. There are GCSE and A-level Russian classes available. ClubOK, also allows Russian parents to meet each other and socialise.